Aveda's NEW Texture Tonic combines sugar and salt to create natural shine with flexible hold - suitable for all hair types!
NEW Aveda Dry Conditioner – Soft & Sleek In Between Washes!
This instantaneous detangler conditions and softens, making hair feel sleek even in between washes. Find out more.
Try AVEDA'S New Pramasana Scalp Treatment
This is a unique service that was created to give you a healthier scalp and beautiful hair. It's like a facial for your scalp!
Sick Of Washing Your Hair So Often? Try AVEDA's Dry Shampoo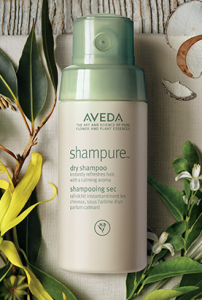 AVEDA's Shampure Dry Shampoo is really good for adding texture and volume to hair, whether you want a style that's bouncy and sleek or a fancy updo!
NEW Aveda Grey Hair Colouring Service for Men
Fed up with looking in the mirror and seeing those extra grey hairs that seem to spring up overnight? Discover Aveda's NEW 'Grey Blending Service for Men'!